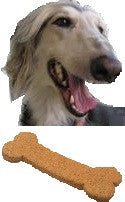 For the Big Dogs: Peamutt Butter
For the purists out there who don't want any fuss, no sprinkles, no toppings, just give it to me healthy and plain.  We understand, and we bring you extra large bones made with peanut butter we make fresh here at the barkery from whole peanuts we roast ourselves.  Healthy and all natural, your big doggy will love these! 
Ingredients: Whole wheat flour, natural peanut butter, milk, baking soda.
Qty: 3
Photo courtesy of
Afghan Hound Rescue of Southern California